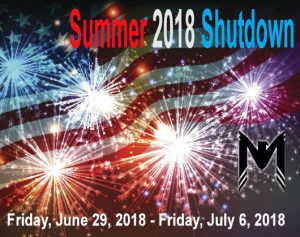 Happy 4th of July from Mohawk Electrical Systems!
We are on summer shutdown from Friday, June 29, 2018 through Monday, July 9, 2018. During this time, our staff will have limited access to email. There will be no shipments or deliveries accepted by our facility.
All shipment arrangements on current shop orders have been made and notified. New inquires may not be answered until we re-open on July 9th.
For urgent matters, please email: info@mohawk-usa.com, with 'URGENT' in the subject line and someone will get back with you at their earliest convenience. All non-urgent matters will be answered accordingly.
From all of us here at Mohawk, have a safe and happy holiday!