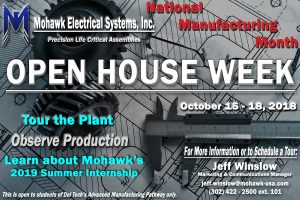 By: Jeff Winslow – September 13, 2018
MILFORD, Del. – The month of October is National Manufacturing Month and in that honor, Mohawk Electrical Systems, Inc. would like to welcome high school students apart of Delaware Technical and Community College's, Advanced Manufacturing Pathway to come tour the plant and facility to learn about careers in manufacturing.
During the week of October 15, 2018, Mohawk would like to welcome students to tour the plant and see how a small business manufacturer operates. Mohawk Electrical Systems, Inc. is a contract manufacturer, known for their work in the defense and commercial markets. The core product line includes the M18A1 Claymore Weapon System, which has been used in active military combat since the Vietnam War.
Mohawk is one of Delaware's oldest, locally owned, manufacturing company's beginning production back in 1963. Recently honored for being the first company in Delaware to complete 30 years in the Delaware Workplace Safety Program, Scott Welch, president and third generation owner of Mohawk Electrical Systems, Inc. is happy to introduce manufacturing careers to the next generation.
"We're a small business and we are excited to show our capabilities [to students]," said Welch.
Mohawk and Delaware Tech began an internship partnership in 2017, allowing junior level high school students to complete a summer internship for credit for the Advanced Manufacturing Pathway program. "We offer an internship to one student during the summer who is actively enrolled in the program," said Jeff Winslow, marketing and communications manager for Mohawk, "we will accept applications for the internship opportunity shortly after New Year's."
Any school who actively participates with the Delaware Tech program can contact, info@mohawk-usa.com, to request a tour date, time, and additional information for between Monday, October 15 and Thursday, October 18, 2018.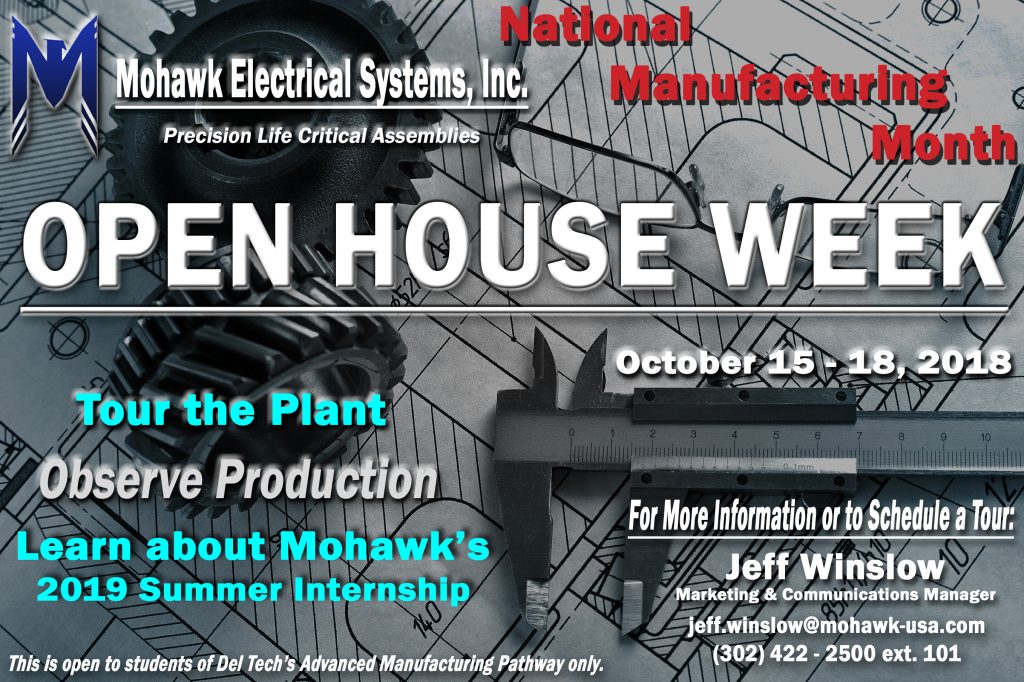 NationalManufacturingMonth_09132018