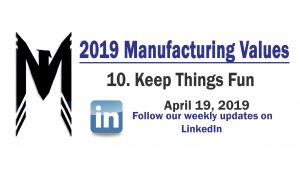 Manufacturing Value # 10 – Keep Things Fun
To see our complete list, please click here.
In manufacturing, time and deadlines are constantly under pressure to meet delivery expectations. So, many would question this value as to "how can you really have fun at work?" The answer is rather simple. Always celebrate the most minor milestones and always harbor a team centered environment.
Working on the plant floor, maintaining other values set forth at Mohawk such as 5S procedures (in next weeks manufacturing value blog), keeping effective communication, and harboring a productive team environment helps create an harmonious work environment from management to the floor.
An annual event Mohawk partakes in for the community and staff is a local bowl-a-thon. This allows friendly competition among co-workers and it all sponsors the local Boys & Girls Club of Southern Delaware. Also for safety and delivery milestones, Mohawk host regular luncheons for staff when they exceed expectations.
Want to learn more about Mohawk's community involvement? Click here!