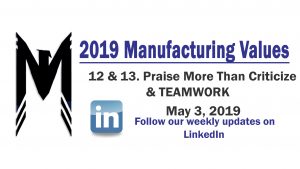 Manufacturing Value No. 12 – Praise More Than Criticize 
At Mohawk, this is one of the values we hold true to and practice daily. Praising efforts, encouraging each other and creating a family environment is something we aim to do as a small business.
Constructive criticism is often used to help promote improvements in the workplace. However, one criticism that is meant to be constructive but comes off wrong, weighs more heavy than ten compliments. As a team, team members and leaders are to encourage positive milestones but also provide criticism when needed to improve production.
Manufacturing Value No. 13 – TEAMWORK
Teamwork is one of the most valuable traits one can learn in the workplace. It is one thing every company needs; a good team.
Our team is made up of administrative personnel, production and quality management and the true most valued players, our production crew. Creating a team environment is extremely important in a manufacturing environment. Everyone must play their part to meet company and production goals to guarantee customer satisfaction.
However, with most teams, competition may become present. Mohawk does not believe competing with each other creates a positive team environment. We are all working to one goal; our customers satisfaction. Without our customers, we are nothing. Increasing overall morale is important in any business.
Happy Employees=Happy Customers=Returning Business.
As previously stated, no one at Mohawk is in competition with one another. We are however, in competition with other companies nationally and internationally. Our positive attitudes and commitment to customer satisfaction is what gives us the Mohawk Advantage.