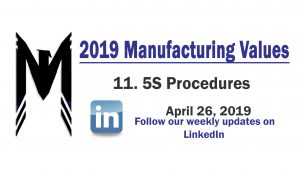 Manufacturing Value No. 11 – Maintain 5S Policies and Standards
(See the original post from 2017: click here)
On the production floor, it is important for the team to stay organized when working on their daily task. Organization is one of the biggest advantages our production team has because everything down to screw drivers have a place on the production floor. Time is usually wasted when items needed for daily production are not put back in place and causes unnecessary delays on the floor looking for equipment.
Starting in March 2019, Mohawk's management team now conducts monthly audits, rather than quarterly audits, to maintain procedures and keep the plant running as efficiently as possible.
Cleanliness is also a heavy practiced chore among our production team. Working in a production environment, dust, debris and other particles could interfere in work spaces. Cleaning up and wiping down work stations daily help eliminate time delays when moving to different projects.