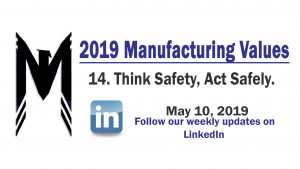 (See the original post from 2017, click here)
Manufacturing Value No. 14 – Think Safety, Act Safely 
In a manufacturing environment, safety protocol is extremely important. All staff among hire, are immediately trained on safety and emergency rules. These are refreshed by management every third Thursday of the Month when a monthly safety reminder is issued among the staff. Mohawk also practice routine fire drills in case of emergency during work shifts.
The safety protocol is set in place for one reason; to keep our staff and customers safe. The products we produce have the ability to cause bodily harm or death if malfunctioned. Do not take short cuts or remove safety guards. Time and profits are easily replaced, however a mishap on the production line could cost our crew a lot more. Staff are to immediately notify management of any hazards on the production floor.
Mohawk's staff are trained in our mission statement and quality policy, "Precision Life Critical Assemblies." In September 2017, Mohawk was recognized by the Delaware Insurance Commissioners Office for being the first company in the state to complete 30 years in the Delaware Workplace Safety Program. This was a monumental accomplishment and as Mohawk continues into it's now 56th year in business, safety will always be a top priority.