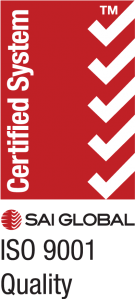 Those in the manufacturing industry know that quality is important, and the metrics behind how its tracked, evaluated and implemented is even more important. An ISO 9001 certification is important for manufacturing because it keeps strict guidelines within the quality component by having a quality management system (QMS) in place for internal processes.
And with many manufacturers domestic and international, doing business with each other, it is imperative that quality is among common standards by a familiar process and the different outputs the ISO 9001 certifications provides.
Higher Efficiency
It is impossible for a company to run 100% smoothly all the time without having some type of variable cause friction. Whether that be a machine needing preventative maintenance or an engineering detail needing updating, multiple factors that all businesses deal with can create delays in production.
The purpose of a QMS system like ISO is to improve communications ahead of a scheduled preventative maintenance service and having open lines of communications internally and externally to make sure the highest quality product is being produced in a timely fashion.
Customer Benefits
The QMS system ISO is recognized around the world by many industries including both commercial and government manufacturing companies. Having the certifications gives customers relief in areas of knowing there will be less mistakes; and if mistakes are made, communications will be open and corrective actions will be issued. The added benefits of an ISO certifications greatly outweigh cost knowing that a strategic system is in place to evaluate different scenarios if they arise.
Learn More
To view Mohawk's ISO 9001:2015 certification, please click here.
To gain the benefits of working with a manufacturer who puts quality and safety above all else, contact us here, to get more information and quotes on your current and future projects!