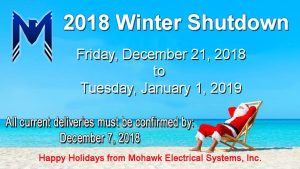 By: Jeff Winslow – October 30, 2018
MILFORD, Del. – It's that time of year again. Time to spend quality time with family, friends, and hopefully, take much needed time off. Mohawk will be closing for their annual winter shutdown from Friday, December 21, 2018 and reopen on Wednesday, January 2, 2019.
For current orders, customers are urged to verify their delivery schedules by Friday, December 7, 2018 to ensure delivery before the shutdown.
For quotes, inquires, and sourcing, please contact Jeff Winslow, marketing and communications manager by Friday, December 14, 2018. No inquiries sent after this date will be officially answered until after the new year.
In addition to the winter shutdown dates, Mohawk will be closed for Thanksgiving on Thursday and Friday, November 22-23, 2018. Please plan delivery request accordingly.
For additional questions or inquires, please email: info@mohawk-usa.com or contact Mohawk, here.