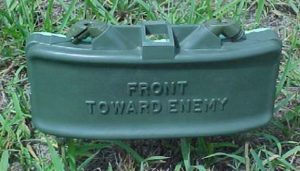 How do you handle unruly crowds?
Whether you are in the military, apart of law enforcement or corrections, crowd control issues will become a problem at some point in your public service duties. With multiple ways of subduing unwanted crowds, riots or creating buffer zones, the M5 Modular Crowd Control Munition (MCCM), may be the non-lethal, crowd control solutions you have been searching for.
Non-Lethal Crowd Control Solutions
Modeled after the Claymore Weapon System (M18A1), the M5 MCCM is the ultimate deterrent for invading targets. The Claymore's signature: "Front Toward Enemy" predominately shown on the front of the device, this non-lethal weapon will help ward off unwanted individuals.
Like most weapons, the device may cause serious injury or death as a result of having to use it, but the direct fire, low hazard munition is a tactical way to incapacitate or disorientate individuals when they become unruly.
The Impacts
The MCCM, when activated, will create a flash bang and string 600 – 32 caliber, plastic balls from the 60 degree-arc. Unlike the Claymore M18A1 that uses steel balls, the plastic balls are to create a non-lethal affect to targets.
Effective range for the MCCM is between 5 and 15 meters. Within the 5-meter range, it can cause serious harm or death. Outside of the 15-meter range, minimal effects will be felt to targeted rioters. After initiation, the effects will last approximately 10 seconds. In addition to the lightweight and long shelf life of the M5, it is completely safe from unsolicited use as it's hand-detonated and command controlled.
The Design
As mentioned above, the M5 MCCM is modeled after the M18A1 Claymore – but, with a few design changes.
With the Claymore's signature styling of "Front Toward Enemy," it is the ultimate visual deterrent for on-coming targets. The noticeable difference is in the body texture, including the rear cover molding being light green with raised diamonds molded into the cover to differentiate the body from the M18A1.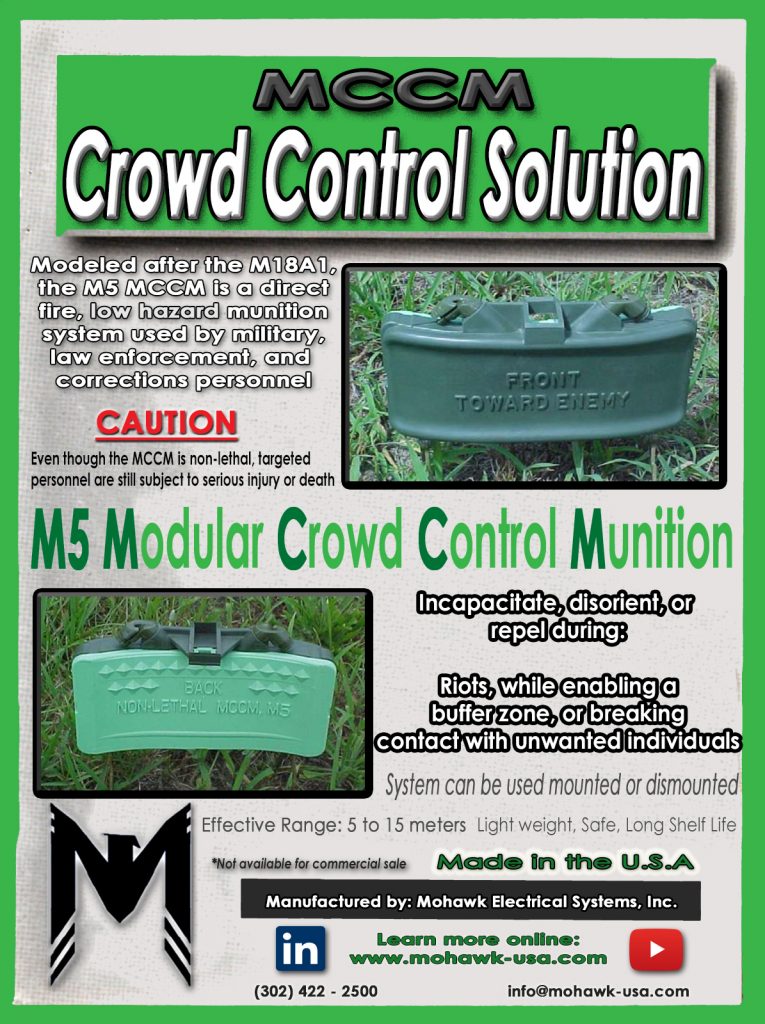 Want to learn more about the M5 MCCM and see if you are a qualified buyer? Please contact us, here. Please note, that no Claymore products, including the MCCM, are sold commercially under any circumstances. To receive additional information about this policy, please contact Jeff Winslow, Marketing & Communications Manager at (302)422-2500 or by email: info@mohawk-usa.com.