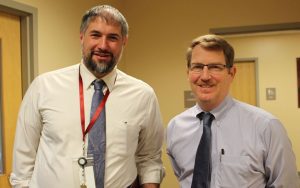 By: Jeff Winslow – October 15, 2018
MILFORD, Del. – With partnership through the Delaware State Chamber of Commerce, Mohawk's president, Scott Welch, will be the 'Principal for a Day' at Milford Central Academy in Milford, Del. on Tuesday, October 23, 2018.
The program was started back in 1993 by DSCC to create a stronger bond between schools and business community leaders. According to the state chamber, since 2004, schools in the first state have been visited more than 1500 times by community leaders.
"Recognizing a need to foster working relationships between business leaders and educators, the State Chamber created this program to provide CEO's and business leaders an opportunity to spend the day in a Delaware school carrying out the daily responsibilities of a principal," says Delaware State Chamber of Commerce website.
This event also aligns with National Manufacturing Month, which Welch says he's excited to share with students.
See photos from Scott's day as principal, here.