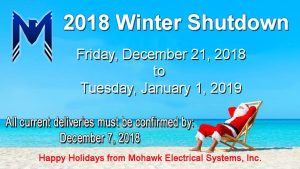 By: Jeff Winslow – December 3, 2018
MILFORD, Del. – This is a reminder for our current orders, that all end of year order deliveries must be confirmed by Friday, December 7, 2018. Mohawk will begin their winter shutdown on Friday, December 21, 2018 and reopen on Wednesday, January 2, 2019.
Mohawk will provide quotes, engineering support, and other manufacturing services up until the shutdown for the holidays. Please note, many of Mohawk's suppliers also are working on similar schedules and their may be delays in quoting depending on the complexity of the project.
For additional information or concerns, please read our winter shutdown announcement or  contact Jeff Winslow, Marketing & Communications Manager, via email or phone at: 302-422-2500.
Thank you for your continued business and have a happy and safe holiday season!