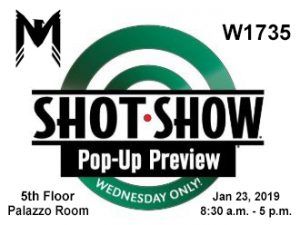 By: Jeff Winslow – December 12, 2018
LAS VEGAS, Nv. – Mohawk will be a part of the Pop-Up Preview at next year's 2019 SHOT Show on Wednesday, January 23, 2019. In addition to the booth on the 5th floor Palazzo Room, Mohawk will be accepting on and off-site meetings for both domestic and international EED manufacturing/Claymore buyers.
On Wednesday, the Pop-Up Preview will be open to exhibitors and attendees of the SHOT Show as an additional exhibit area off of the main floor. The area will be accessible from 8:30 a.m. to 5:00 p.m. on January 23, 2019. This is a one day only event and Mohawk's booth will be 1735; right beyond the lobby area in the Palazzo Room.
To learn more about the pop-up exhibit or to schedule a meeting with Mohawk on Tuesday or Thursday of the week of the show, please email: info@mohawk-usa.com. To see more of Mohawk's 2019 events calendar, please click here.