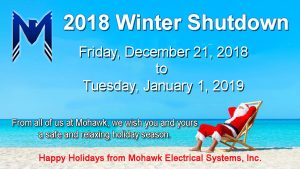 Thank you for another great year. We will be on holiday shutdown beginning this Friday, December 21, 2018 and returning Wednesday, January 2, 2019.
If you need assistance during the shutdown, please email: info@mohawk-usa.com. The email system will be monitored over the shutdown, but individual request for specific information or quotes may be delayed until return on January 2nd.
Have a safe and happy holiday!