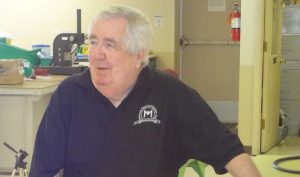 By: Jeff Winslow – December 20, 2018
MILFORD, Del. – Co-founder of Mohawk Electrical Systems, Inc., Stephen 'Steve', R. Welch, Sr., 80, passed away at his home on Wednesday, December 19, 2018 after a brave, three year battle with cancer.
Welch was a lifelong resident of Milford, Del. He was born on February 19, 1938 in his family's home to parents Clarence and Hilda Welch. Welch attended school in the Milford School District. After graduating from Milford High School, Welch attended the University of Delaware. He graduated in 1960 with a degree in Political Science.
In 1963, Welch co-founded Mohawk Electrical Systems, Inc. with his late father Clarence. Mohawk manufactures cable harnesses, wiring assemblies, circuitry boards, electromechanical parts for the oil & gas industry and works with the U.S. Department of Defense. He retired from Mohawk in 2006. His son Scott continues to run the family business, now in its 55th year in business.
Steve played very pivotal roles throughout the Milford and southern Delaware community. Along with growing Mohawk, Welch briefly owned and operated Casablanca Tavern which is now, Park Place Bar & Lounge in Milford, Del.
Alongside the late Tom Draper, Welch contributed time and personal investment into the "Bombay Hunt Club", along with eight other members in the community who played important roles in the clubs inception. Welch also had personal and professional commitments through the Delaware State Chamber of Commerce, Greater Milford Chamber of Commerce, and his multiple business ventures.
Welch is survived by his wife, Linda Borgeault Welch, son Stephen R.Welch, Jr., daughter-in-law Kathryn, grandsons Jacob, 13, and Michael, 13, son Scott M. Welch, daughter-in-law Beth and grandson Josh, 12, stepdaughter Christie DiNatale, step son-in-law Vinnie DiNatale and step grandson Vinnie Jr., 12, stepson Adam Davis, sister Martha Welch Clendaniel, brother-in-law George Clendaniel and nieces Kristen Clendaniel Clark and Kelly Clendaniel and former wife Norma Gray Welch.