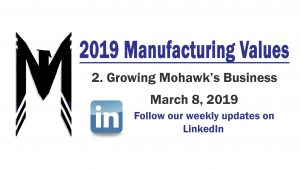 Manufacturing Value #2 – Growing Business
At Mohawk, we take pride in growing our business and strive for success. As we continue our mission to be consistently profitable, we also want to provide a positive and rewarding work environment for our plant employees.
Continually improving our internal processes, our management team hold monthly CPAR meetings and hold semi-annual audits across all departments to prove success and keep our communication lines open to everyone.
As a small business, our team harvest a family environment. Working together as a team, we achieve higher quality results than having independent projects where only one person is responsible. In order for one to succeed, we all need to succeed. Our managers and supervisors in the plant are committed to this practice in making our team morale successful in return keeping our product quality high and our on-time deliveries higher by reducing workplace conflict that could get in the way of results.
Working with other company in mutual partnerships is also an avenue Mohawk hopes to grow their international business in 2019. To learn more about Mohawk's agent relations and growing production lines for overseas markets, please click here.
We believe in rewarding success and are happy to implement bonus plans in the plant for employees to be rewarded for the success they help bring to the company. We also celebrate milestones when our team succeeds.