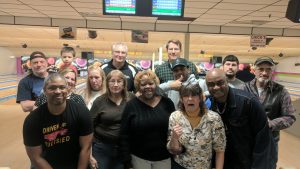 By: Jeff Winslow – March 13, 2019
MILFORD, Del. – For many years, Mohawk has been a proud sponsor and supporter of the Boys and Girls Club of Delaware – and that continues strong in 2019 while bowling for a cause.
Ahead of their 'Bowl-A-Thon,' Mohawk has once again lane sponsored the annual event by purchasing two lanes at the event. This gets Mohawk's employees involved in the community-wide event, while also participating in a team building activity. The 'bowl-a-thon' invites other local businesses, like Mohawk, to participate. All proceeds from the event go to the children of the Boys and Girls Club of Delaware in the greater Milford, Del. area.
The annual bowl-a-thon will be held Saturday, March 23, 2019 from 5:30 p.m. until 8:30 p.m. Like in previous years, the event will be held at Milford Bowling Lanes in Milford, Del. Learn more about the 'annual bowl-a-thon' by, clicking here.
To learn more about Mohawk Electrical Systems community involvement, click here.
Follow Mohawk's LinkedIn page to see highlights and photos from this years event, happening on March 23rd.