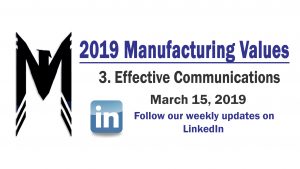 Repost from December 2017 – Click here. 
Effective Communication in Manufacturing
As apart of Mohawk Electrical Systems, Inc Values, communication among employees and customers is heavily emphasized. Internally, Mohawk holds meetings daily to express concerns, highlights and production goals. Understanding one another and expressing viewpoints verbally and non-verbally is needed to accomplish goals.
Team Building – Internal Communication
Effective communication helps both production employees and management form effective teams. Everyone on the team holds their own independent goal, while looking at the finish product. At Mohawk, goals align with the customer, a high quality, finished product for their end-goal needs. Lean manufacturing and effective communication are needed factors on a plant floor to produce that goal.
In some teams, cliques can form. Cliques in the workplace are often toxic and bring down employee morale. When internal morale is affected, it has the potential to leak out into the finished products. At Mohawk, the family-oriented environment allows anyone to approach management with issues or concerns to produce high-quality components. Mohawk makes efforts to keep morale up including team-building activities and a reward system for production personnel.
External Communication
Mohawk makes every effort to be as transparent as possible to customers. Mohawk offers continuous technical support through all stages of production. Available through email and phone, Mohawk now operates both LinkedIn and YouTube pages that allow internal processes to be previewed by current and perspective customers.
Mohawk strives for continuous improvement in their communication efforts. If you would like to know more of the Mohawk Advantage or have suggestions of how Mohawk can help reach your end goal, please contact us!